Coaching / Consulting / Mentoring

One Team, LLC mentoring and coaching services will take your business to the next level and beyond, John's many years of consulting fortune 100 organizations on technology, his years of information technology senior management experience along with John and Sarah's combined 10 years of owning a successful online business is the expertise you need to succeed. We have the keen ability to effectively evaluate, analyze and suggest viable and profitable solutions for you and your business. Our professional experience will allow us to either set a clear new path for your online business or tweak your current direction to take your online business where it needs to go to be successful and profitable.
Let us jump start your online business today! Learning to take Action Now is a major key to success. Our one on one service will help you get laser focused on the areas you need to address in your business. Do you start your day and your really not sure what you should be working on? Are you super busy, but when the day is over you feel you did not really make any progress? Knowing what tasks to work on and when to work on them is one of the keys to success.
Whether you're starting a new business or struggling with an existing business where you cannot get the results you're looking for One Team, LLC can help get on the right path. You could be just a few tweaks from turning a $100 a month to $10K a month, $10K a month to $30K a month and beyond. Let us help you make the necessary adjustments to achieve your business goals. We could work together once a month, twice a month or even weekly, it's really up to you. Maybe you just want to meet one time to learn what we are doing online or you need us to review your online business and discuss our suggested improvements to transform your business. We have a package for everyone!

45 Minute Coaching Session
3 - 45 Minute Coaching Sessions
BEST STARTER PACKAGE!
5 - 45 Minute Coaching Sessions
Blended Package
3 Hours Coaching & 3 Hours Training
Technical Training "Tools of the Trade" Academy
One Team, LLC technical training services can help solve your immediate need to gain a specific skill you might be might be struggling with that is holding you back.
Okay, so you bought into the latest – greatest program and you are ready to get started! Now what?!?? You bought all of this software and all of these tools and your head is spinning trying to get all of them working! If you don't know what to do, we can help. We can teach you all of the "techie" stuff that you NEED to know.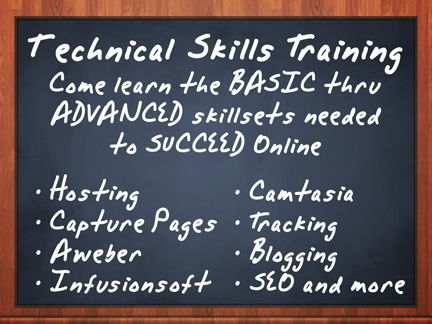 · How to set up your hosting account and ftp account
· How to set up your auto-responder
· Create email campaigns in, Aweber, Get Response,Infusionsoft etc.
· Learn Lead and Ad Tracking
· Create a video and publish using Camtasia
· Create your own Capture Pages
· How to properly write a blog post
· On-page SEO for blog posts
· Article Marketing, Spinning and Backlinking
45 Minute Training Session
3 - 45 Minute Training Sessions
BEST STARTER PACKAGE!
5 - 45 Minute Training Sessions
Blended Package
3 Hours Coaching & 3 Hours Training
Private Mentoring Business Weekend
Contact us if you would like to learn more about our Private Mentoring Business Weekend. This is where you will meet Sarah and John for 2.5 days at an exclusive location where they will work with you on every aspect of your business. 
YES! I Am Interested In Private Mentoring
 

Graphics & Web Design Work
We are happy to announce that One Team LLC. has teamed up with a design studio in order to fully facilitate you, our customer having the best resources available to you.
One Team, LLC design services can build you a custom blog or a custom sales funnel for your business! Learn more about that here
Google+